A review for all users interested in using MyFreeCams and having an account there
MyFreeCams (also abbreviated to MFC or written My Free Cams) is an adult streaming website with shows with sexual activity from dirty talk to sexual activities (sometimes with sex toys too). Everything started about 20 years ago. It's old website with a big group or devoted fans who still support it. Many times awarded, the site is one of the biggest streaming communities you can find in the whole web. If it's the best of them - you'll find out soon, when you know better this special review. Everything you can find here was written according to viewers and broadcasters experiences - and to that everything there was added some answers from official MyFreeCams support. It allows you to see all details of MFC with every advantage and disadvantage.
REGISTER WITH BONUS!
Offer based on regulations of the website!
MyFreeCams basic details important for users
Type of site
Webcam, live streaming
Registration
Optional
Launched
2002
Official currency
Token
MFC is based on live performances broadcasted by mainly amateur adult models who give shows for tokens and tips. There are lots of free services of the site but some of them require paying so it's important to have some coins called tokens in account balance. If you want to become a member of this huge community, you can't forget that there are some rules connected with using the website. Users can't:
do anything illegal
record and distribute shows or other content of the website
share their account with other people or create accounts for other users
post pornographic links or images
use hate, racist or abusive language
discuss sex with children - even fantasy or roleplay
disturb other users on chats
promote other websites or services
solicit broadcasters for commercial ventures
solicit performers to meet in person for money
offer tokens for in-person meetings
harass other members or models
post private or personal details of broadcasters and other members
blackmail models or other users
claim to be a moderator or a worker of MFC
intentionally mislead models with fake tipping, for example
encourage any other member of MFC to break site rules.
MyFreeCams is the place where viewers and broadcasters meet to give and get pleasure. There you can feel free to express but you must respect above rules because the main assumption is always being nice for others. Remember that both viewers and broadcasters have emotions and you must think about it when you write or arrange any activities. You can also ignore anybody who makes you angry or irritated. This will allow you to enjoy MFC more.
---
---
REGISTER WITH BONUS!
Offer based on regulations of the website!
What can you access having an account on MyFreeCams?
Registering on MFC is free from fees and takes only about 2-3 minutes. After confirming the account with e-mail, you become the member of MyFreeCams community. And now it's the time when you have to understand how to manage the website and what its options are. Remember that on MFC many features may be customized the way you like so you can make the site as comfortable to use as you want.
Sidebar on MFC and its options of customisation for tags, topics, account options and many more
On MFC you can see the bar on the right side of the site. You can hide or customize it. In its basic version you can find there lots of features from main menu to popular broadcasters. Let's see what is available there.
The first table is the menu with options connected with user's account and basic search features. What can you access there?
ALL OPTIONS CONNECTED WITH MANAGING YOUR ACCOUNT AND COINS - from status and purchase options to things like all settings you can imagine:

my account
personal options
profiles
room history

NEWS
MOST POPULAR ROOMS
TRENDING ROOMS
MISS MYFREECAMS - the model who earned the highest quantity of tokens last month (that is rewarded additionally with money prize)
MODEL EXPLORER - the place that is a little search engine because there you can choose broadcasters according to:

topics
tags
questions:

About me
My ride
If I could be anywhere...
My birthdate
My blurb
My body type
Craziest thing I've ever done
Do I drink?
Do I do drugs?
My ethnicity
My eyes
My favorite books
My favorite foods
My favorite movies
My favorite songs
Five things I cannot live without
What I do for fun
Hair
My hobbies
Best reason to know me
My marital status
The meaning of life
My day job
My perfect date
My perfect mate
My pets
My education
My sexual preference
Do I smoke?
My talents
What turns me on
My body weight

MODEL TAGS - where most popular ones are for example:

sexy
young
hot
cute
natural
sweet
friendly
shaved
funny
horny
naughty
ass
smart
new
beautiful
toys
pussy
skype
smile
anal
wet
nice ass
feet
brunette
squirt
private
long hair
cum
masturbation
tease
dance
fun
blonde
pvt
natural tits
dancer
pretty
naked
new model
dildo
teen
lovense
stockings
boobs
tits
cam2cam
c2c
lush
playful
heels
kinky
roleplay
strip
fetish
long legs
sensual
lovely
big tits
striptease
slim
curvy
big ass

TOPICS - where most popular are for example:

pussy
ass
flash
tits
pvt
show
naked
lovense
skype
c2c
lush
squirt
cum
anal
dance
boobs
feet
hello
play
spank
snap
strip
dildo
goal
snapchat
kiss
sexy
love
whiteboard
off
fun
dream
happy
toy

MODELS YOU MAY LIKE
MEMBER TAGS WITH MOST POPULAR ONES LIKE:

friendly
funny
respectful
honest
gentleman
male
intelligent
sweet
sexy
romantic
single
nice guy
shy
gamer
caring
fun
horny
naughty
kind
loyal
handsome
smart
open minded
cam2cam
blue eyes
nice
tall
crazy
skype
hot
young
kinky
straight
athletic
polite
sarcastic
nerd
cute
webcam
black
music lover
awesome
420

MEMBER ROOMS CREATED BY PREMIUM USERS.
Both members and broadcasters can write some tags about their accounts to describe them. It helps to find both matching performer to watch and other user friend to write. Next bars are about friends and bookmarks so they are used to manage friendship with others and having things you like at your hand. Below them you can find most popular rooms and main its options like again 'models you may like' or 'tags and topics'.
You must check it - it's the only way to understand the sidebar.But wait, there aren't last options of searching on MyFreeCams. On homepage there are also additional things you can set to make searching easier and more comfortable.
REGISTER WITH BONUS!
Offer based on regulations of the website!
Customize your search engine with additional MFC options
Model List Settings are available on the left of search bar or in a footer of MFC. If you though that you have known all search options so far, you're completely wrong. There lots of additional things to determine.
Your settings are saved so if you want to change something, you must remove chosen options or add something different. What is available in MyFreeCams search engine on homepage?
SHOW AT THE TOP OF THE MODEL LIST:

Friends Bookmarks
Models You May Like
Most Popular Rooms
Trending Rooms
Recently Visited
Custom Selection
Models with Notes
*NEW* Models
Miss MFC
Groups Privates
Models that finished Top 3 Miss MFC any month

HIGHLIGHTED ROOMS:

Custom Selection
Models You May Like
Most Popular Rooms
Trending Rooms
Recently Visited
Top Miss MFC Ranks

FILTER BY REGION:

Africa
Asia/Pacific Islands
Australia
Central/South America
Europe/Russia
North America
United Kingdom
Unknown Region

MODELS ARE *NEW* for:

never
3 days
7 days
14 days
30 days
60 days
90 days

DISPLAY TYPE ON HOMEPAGE:

Animations at per second.
Still Previews
Overlay Avatar
Avatars Overlay Preview
Text List
Small Images
Large Images

SORT MODELS BY:

CamScore
Number of People
Alphabetically
Order Logged In
Newest on Site
Random

SHOW WHICH MODELS:

All Models
Friends/Bookmarked
Public Chat
Highlighted Rooms

PAGING:

dynamic scroll
multiple pages

MODEL LIST REFRESH RATE:

15 seconds
30 seconds
60 seconds
120 seconds
300 seconds
600 seconds

GROUP BY PRIVATE / GROUP / AWAY
SHOW IF BASICS CAN CHAT
SHOW TEXT LIST LINK AT THE TOP
MODEL LIST HAS SEPARATE SCROLL BAR.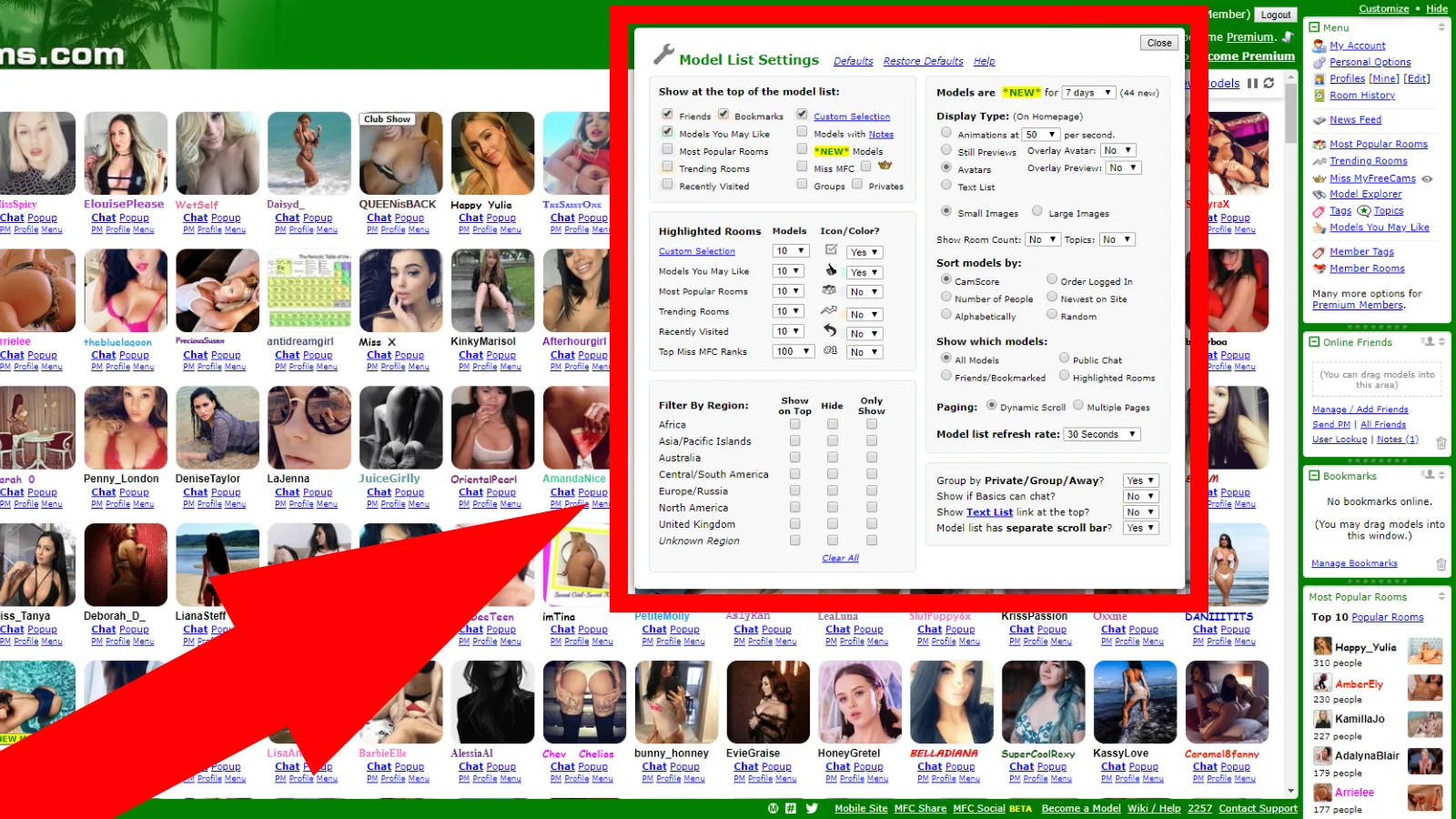 A short guide through the website if you have the account there
It isn't complicated to use MFC but the website has as many options that they need being described in details. Everything starts before you create the account and we'll start in this point. Imagine that you enter the website and you haven't had account yet. What is available for you and what steps wait to being filled before you start enjoying live shows?
Before you set up the account on MFC
You start visiting the website as a guest if you don't have the account. Creating the membership is free and easy and the process takes about 2-3 minutes. Being the guest you can access some chats but most of them require being registered on MFC.
When you get the account, your journey begins. You can click any model's avatar to enter their room and start watching. Basic services on MyFreeCams are free but remember that there are some things that can't work without paying for them. Clicking the link below the video, you can resize it - make video window bigger and chat smaller, for instance or watch the show on full screen. The website is available from PC computers and mobile devices and watching performances is always the same comfortable.
How to send messages on MyFreeCams if you have account registered?
You can send messages to broadcasters and other members of MFC and make friendship with them. With messages it's connected also one important and popular feature - each private message window includes 'view webcam' that allows watch webcams in the PM window, even if you're not in the chat room. For longer mails you can use MFC Mail that is similar to online communicator a little.
REGISTER WITH BONUS!
Offer based on regulations of the website!
How to chat with others on MyFreeCams - options for models and viewers
Your fonts, letters and other things may be customized on MFC chats and it gives you lots of different options of express yourself. Both broadcasters and viewers can change chat options. Your name is always shown in the style you chose. If you don't feel satisfied, you can also start using emoticons. There are thousands of custom emojis for you to use. Still doesn't enough? Insert image from the Internet and paste it on the chat.
Special options of MFC - extras of the site that may be used by you
There are some specials on MyFreeCams that you can appreciate. What additional options are available for you?
LOUNGE - all premium users (viewers with tokens bought) have the access to special room, the place called lounge where you can use controls to watch any models you chat with other members
YOUR ARCHIVES - messages, chat rooms and private shows - all of this content is recorded and saved for you and you can check it again anytime you want
THE PRIVATE GALLERY - when you become the premium member, MFC creates a gallery of random photos for you and the longer you're premium user, the more pics you'll have in your private gallery
MODEL NOTIFICATIONS - if you want to know if models you like are online.
The coin of MyFreeCams - what kind of currency is the token?
First you should know basic rules connected with the access to MFC that are important and related to the token:
access and membership on MFC is free but there are some services that require tokens
only purchasing tokens you pay for something on the site
all purchases are one-time charged, if you pay the price, these tokens won't be billed again
there aren't any paid membership or subscription, you become premium user when you buy tokens
there aren't any coupons on discounts on MFC - tokens have always the same cost.
When you use the site or buy tokens:
your privacy is always protected
you'll never get anything on your postal mail address
all transactions of purchasing tokens are conducted with trusted companies
all transactions are secured with at least 128-bit encryption.
On one hand, that's pity because on MyFreeCams aren't any discounts or special offers connected with tokens. On the other hand using the website may be nearly free if you don't spend too much coins so maybe you shouldn't wonder why it works this way. Token is the only way to pay on the site so you should know it better.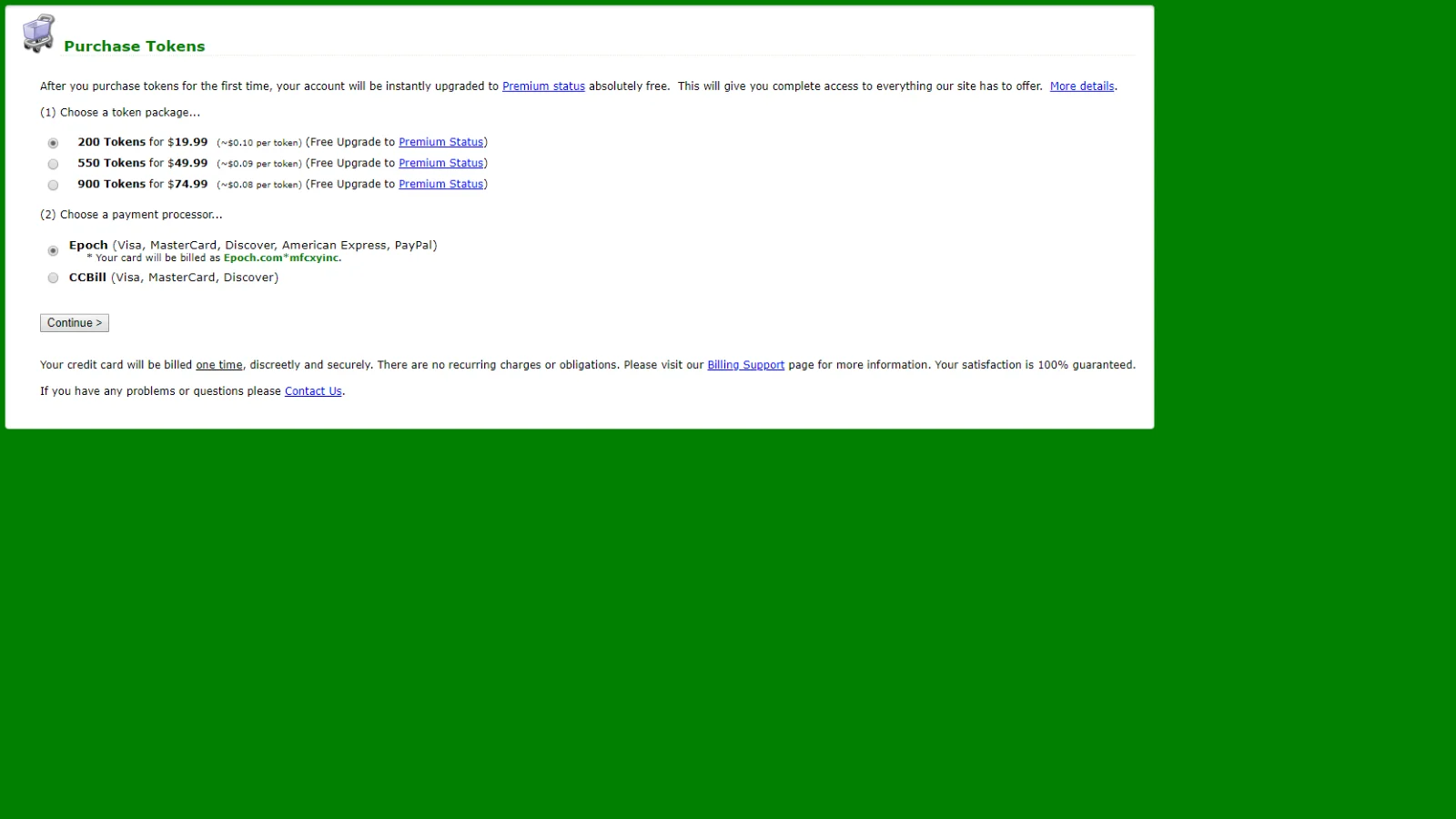 The token and everything on MyFreeCams connected with this coin
The only thing that requires money on MFC is the token. You use this coin to pay for some shows and to tip performers. If you buy tokens, you become forever premium user (and even if your account balance is zero, you still can use all premium membership modes). If your account is fresh, you can see just smaller packages of coins available to buy. This limit is increased if you use MyFreeCams regularly.
Standard token packages and their prices for users
Amount and price
The cost per 1 coin
200 Tokens for $19.99
~$0.10 per token
550 Tokens for $49.99
~$0.09 per token
900 Tokens for $74.99
~$0.08 per token
3775 Tokens for $299.99
less than $0.08 per token
7575 Tokens for $599.99
less than $0.08 per token
You must start your purchases with available packages of tokens - smaller ones. There may be also determined spending limit and then you must verify yourself to increase it. There are also available the smallest packages of coins - but you can access them when you buy the package with 200 coins. These smaller packages start with the price of $1.49 for 10 tokens through $9.99 for 95 tokens.
REGISTER WITH BONUS!
Offer based on regulations of the website!
Tip option - everything about tipping on MyFreeCams
Tipping is sending some tokens to the broadcaster. It's always nice and polite to send tips to performers - after private show if you liked it or during public chat that is free to watch to let the model collect some coins and earn something. Tips are gifts so they can't be refunded.
Tip options on MFC - how to tip on the site?
There are some tip options for users. Remember that nobody can force you to tip but it's advised to do it, especially if you take part in the free chat that hasn't any fee for viewers:
tip may be visible or invisible in the chat room - you can determine it. Then everybody can see 'Member XYZ tipped 10 tokens to Model 123'
you can send anonymous tip if you want and then it must be 5 tokens or more
you can send message to the broadcaster along with the tip included - and it may be visible or invisible for other viewers in the room.
Tip advices for all MyFreeCams users who have accounts registered
If you decide to tip performers, there are some details you should remember:
your tip options from previous tips are saved automatically but you can always change them
you can send multiple and repeated tips with a button 'Click here to Confirm & Tip Again'
you can tip broadcasters from private messages or chat room
there are additional tip options like silent tipping you can find in your account so if you want to tip performers in different ways, check all options available on the website.
What are reward points and how to unlock them on MyFreeCams?
Reward points are special scores you collect according to bought tokens. Each 1 reward point means 10 tokens purchased. The more reward points you get, the better for you - next points unlock higher levels of MFC membership and you get additional options and things to use (for example bigger token packages to buy). Models can see your points unless you hide this option in your account privacy settings.
Reward points never expire and MyFreeCams works all the time to add new options for points for its users so it's always good to buy some coins from time to time even if you like watching free chats that haven't the price per minute.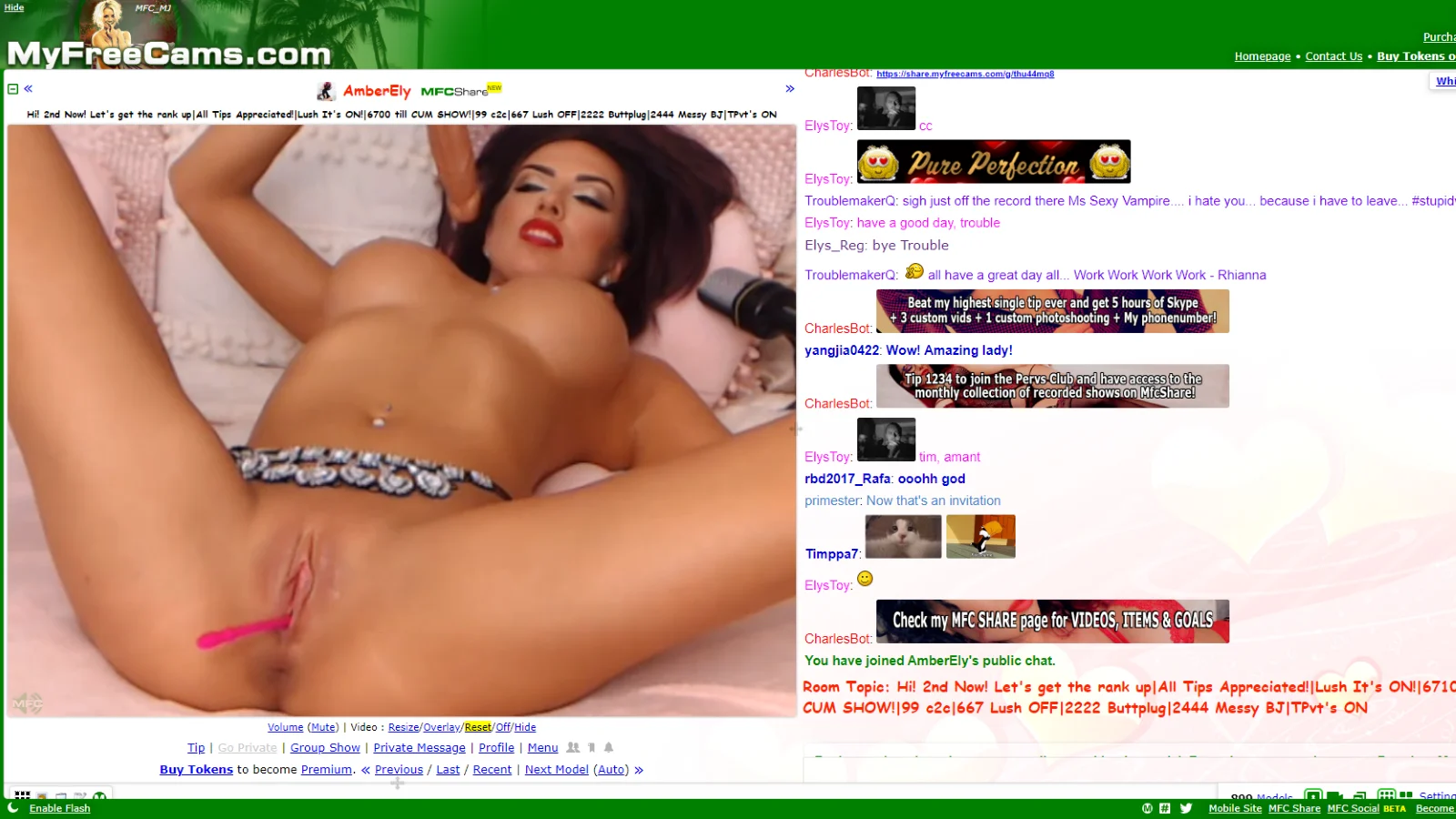 Payment methods on MyFreeCams - how to pay for tokens?
There are different methods of payment available on MFC. If you're interested in purchase coins, you can pay for them with below ways:
CREDIT CARDS:

debit cards
gift cards
bank wire transfers

LOCAL PAYMENT METHODS:

iDEAL
Sofort / DIRECTebanking
Ukash
PaySafeCard
ClickAndBuy
Giropay
Bancontact / Mister Cash
Neosurf
Euteller and Nordea
POLi Payments
ENets
Przelewy24
Todito Cash
Postepay
SafetyPay
Sporopay
Yandex

OTHERS:
Rather everybody will find the suitable payment method for them. If you have any problems with purchasing tokens, you should contact with the support of MyFreeCams and describe the situation.
Purchase limits on MyFreeCams and how to increase these restrictions?
If you register the account, it's limited at the beginning. You may buy only smaller token packages, etc. Only spending time on the website and collecting reward points, you can increase limits of coins you can buy. It needs time but it's worth it.
If your account is fresh, your daily purchase limit is 2 times a day. If you want to increase your restrictions faster, you should:
follow instructions in section related to limits in your account
contact with MFC support and ask for making your limits bigger.
REGISTER WITH BONUS!
Offer based on regulations of the website!
Is it possible to find any generator for MyFreeCams and hack unlimited tokens?
Many MFC users look for cheat methods that may help them to hack tokens and get them without paying. Unfortunately you can't use the generator and within just few minutes enjoy free coins that may be used like paid ones. Even if you find any adder that was theoretically prepared to crate gratis tokens, it won't work. So if you don't want to waste time, stop using it. What's more, there aren't any discounts and free coins you can get on MFC according to its official special offers. Because of this, some users look for generating options. It's huge disadvantage that the website hasn't discounts and promotions for users but we can't do nothing to change it. But any website isn't perfect, MyFreeCams too.
Summing up - don't believe in generators, on the market there aren't any hack tool that can cheat tokens and you have to pay always full price for official MFC currency because on the website there aren't any promotions for site's users.
Show types, account modes and additional options you can use on MFC
What makes MFC so special? Why is it worth to use it? This section is big FAQ chapter that answers all most important and most often asked questions. Here all details of chat options, accounts and any features you can use on the site:
models earn huge percentage of tokens they collect (more than 50%)
lots options of the site are free to use, spending money is optional there.
Account types you can have on MFC - how to become premium user?
On MyFreeCams there are 3 types of visitors. The higher level of membership, the more options you have. What's important, on MFC there isn't any special paid membership with monthly subscription. You become premium in simple way and if you purchase coins once, you'll stay bonus user forever.
uest account on MyFreeCams - unregistered user that have only few options and rights
When you visit MFC and you haven't account, you're the guest of the website. Your rights are limited because most models don't allow unregistered viewers to watch their shows (because they don't leave tips). Creating the account is gratis and it takes only a while, so you can do it without worrying about filling credit card details, for example. On MyFreeCams you pay only for tokens you want to buy, other things are completely free.
Basic member of MyFreeCams - how to create free account on the website?
Setting up the account is free on MFC. You need e-mail address to confirm your membership and until you buy tokens, you use the site for free. Basic registered user can watch more shows but it's still a little limited. It changes when you purchase some coins.
Now there is only one step from being bonus member of MyFreeCams. It's enough to buy tokens - it opens some new features.
How to become premium member of MFC?
Premium doesn't mean any monthly subscription on MFC. It's enough to be basic member and buy some tokens to have premium access to the site. Users with tokens have more possibilities and they are liked by models.
Remember that if you buy coins once, you'll stay premium forever (even if your balance is zero after spending bought tokens). It's better to have coins on MyFreeCams - with them you can enjoy private chats and tip broadcasters - and on the site there are some interesting options to spend coins and get additional pleasure.
REGISTER WITH BONUS!
Offer based on regulations of the website!
Chat types available on MyFreeCams - options to spend tokens on the site and cost of shows
You can save lots of money and spend only few tokens watching public shows or you can enjoy private chats and pay price per minute. There are 2 opposite ways of using the website - it depends if you have cash to spend or not. What is available on the site? How much do you have to you pay for it?
Chat features on MyFreeCams
Fully explicit free chats
Yes
Private chats
Yes
Full private chats
Yes, TruePrivate chats
Cam2Cam
Yes
Spy/voyeur mode
Yes
Group shows
Yes
Tipping
Yes
Private messages
Premium members only
Rewards program
Yes, unblock account features
Mobile site
Yes
So what are prices of chats? Is it cheap or expensive to enjoy shows on MFC?
Cost of various types of chats
Private chat
60 tokens per minute (about $5.50 per minute)
TruePrivate chat
80 tokens per minute (about $7.30 per minute)
Group chat
10 tokens per minute (about $0.90 per minute)
Spy/voyeur chat
20 tokens per minute (about $1.80 per minute)
What are features of each type of chat?
group show is 3 or more members can share private chat for lower price
voyeur chat where the user can spy and watch someone's private show without the option to access Cam2Cam
private chat that may be spied by others
TruePrivate show that is full intimate chat without spies.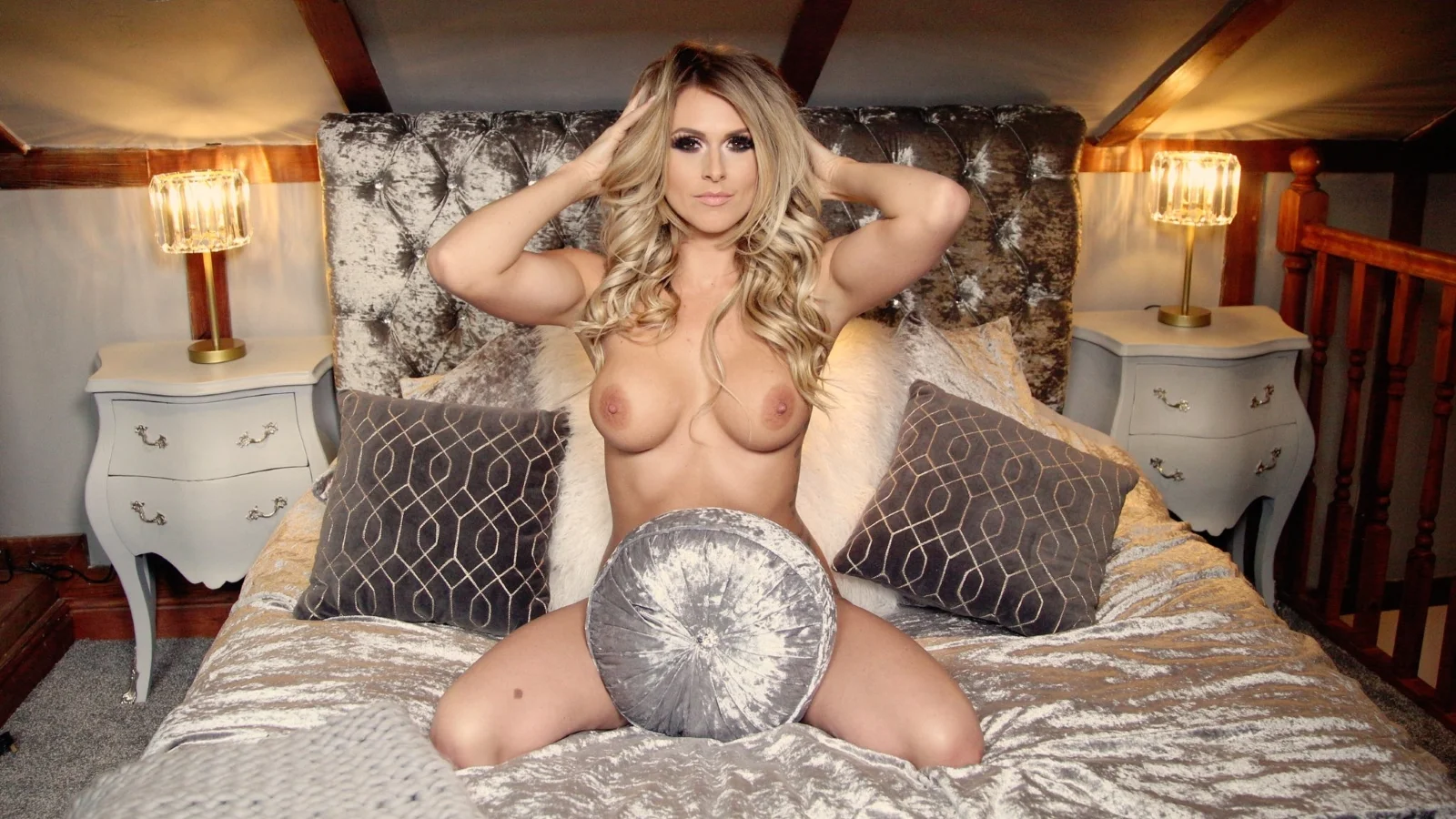 Features and cost of MFC private chat
If you have tokens in your balance, you can go private with the broadcaster. Private show may be spied by other users who don't have any influence on chat's action. The cost of this kind of performance is 1 token per second that gives 60 coins per minute. It means that 5 minutes chat's cost is 300 tokens.
If you take part in the private show, it's recorded and then you can watch it again for free anytime you want. You can have lots of chats saved in your archive and see them again and again.
How to spy on MyFreeCams?
You can spy other users chats with broadcasters if they are in private rooms and pay for that only 20 tokens per minute. Spying the chat, you can watch and hear everything but you can't read messages between performer and viewer. If the user doesn't want to be spied then they with models go into TruePrivate option and that one can't be seen by anybody else.
TruePrivate option if you want to get 100% intimacy with the MFC broadcaster
For 80 tokens per minute, you can get full intimacy without being spied by anybody. It's called TruePrivate chat. The price of this kind of the show is higher because it must be payable for the model to block the option of spying. There are some viewers who like this kind of the performance and they pay the cost of being one-to-one with the broadcaster.
Group show - get pleasure on MyFreeCams with other viewers
Group show is similar to the private one but there may be more members and they may join the chat anytime. The model needs at least 3 viewers to accept invitation to group chat. It ends when the last viewer leaves or the broadcaster chooses this option. The price of this kind of the show is very low so it's advised to tip the model additionally to let the broadcaster to collect more tokens.
Club chat on MFC - differences between club and group shows
Club show doesn't have any price per minute but it works similar to group chat. To take part in the club show, the user must be a member of model's Club on MFC Share in order to be able to enter the room and watch the show. On MyFreeCams there aren't special discounts and promotions for coins but you can see that there are some extra bonus options that are worth wondering. If you like any model a lot, it may be great way to save some cash but still have lots of pleasure (of course, there is also advised to tip broadcaster during club shows).
REGISTER WITH BONUS!
Offer based on regulations of the website!
Search options you can know to find everything that is interesting for you on MyFreeCams
In search box on the website you can search online things like:
model usernames
room topics
model tags
news feed posts.
If you paste any word there, for example 'brunette', you'll get all model usernames, room topics, model tags and news feed posts that contain the word 'brunette'. In addition, you can use AND, OR and NOT to make your searching more specified:
BIG TITS means getting results with 'big tits' in models usernames, room topics, model tags and news feed posts
BIG TITS OR TALL means that you'll get results with online models who have big tits OR who are tall
BIG TITS AND TALL means that you'll get results with online models who have big tits AND who are tall additionally
BIG TITS NOT TALL means that you'll get results with online models who have big tits that who aren't tall (broadcasters with big tits that are additionally short).
There are also advanced options os search like below ones:
BLONDE AND (LONG LEGS OR TALL) means models that have blonde AND long legs together or blonde AND tall
BLONDE OR LONG LEGS OR TALL means blonde OR long legs OR tall in results.
Chat options on MyFreeCams you should know before you start writing any messages
Guests and basic users are disabled in most chats (it's broadcasters decision), premium users can write messages on any chat they want. There are some things you should remember if you want to chat on MFC.
People in chat rooms you can meet on MFC
All viewers of the chat are available to check on users list. They are visible in below order:
models
your friends
recent tippers
premium members
guests.
Recent tippers are users who left any tip in the room during the session that is on. Your friends are users you have on your friend's list. The rest of users is rather clear for everybody.
Images and their options when you chat on MyFreeCams
You can insert images into the chat - from your disc or from the Internet. It's forbidden to paste inappropriate pics and photos that lead to any abuses or are hate, pornographic, etc. You can upload photos also from chat image library where you can find thousands different pics.
You can also save photos, create your personal library and change your profile images. There are lots of various options on chat and in your profile that are connected with photos. It's hard to describe all of them, you should check them yourself.
REGISTER WITH BONUS!
Offer based on regulations of the website!
Everything about the list of models on MyFreeCams and its options
First of all - only performers who are online at the time you visit MFC are available to see on lists:
SETTINGS - customizes the list and help you to sort everything better
SEARCH BOX - is searches online models via username, topic, model tag, and news feed post
NEW MODELS - determines broadcasters who are fresh on the site
PREVIEWS - shows a current snapshot instead of avatar
PAUSE - pauses automatic refreshing of the list.
Broadcasters may be highlighted in colours. What does it mean?
PINK - on your friend's list
GREEN - 'model you may like' according to your inputs
BLUE - one of the most popular rooms
ORANGE - one of trending rooms
GREY - one of your 'recently visited rooms'
PEACH - on your bookmarked models list
YELLOW - model you're currently viewing.
Below each model's avatar you can see also options:
CHAT - to enter model's chat room
POPUP - to enter chat in pop-up option
PM - opens private message window with webcam
PROFILE - opens model's profile
MENU - opens model's menu with useful links and details.
On the website there are lots of options, here you can see only main ones. You must spend some time on the website to learn how to manage all of them.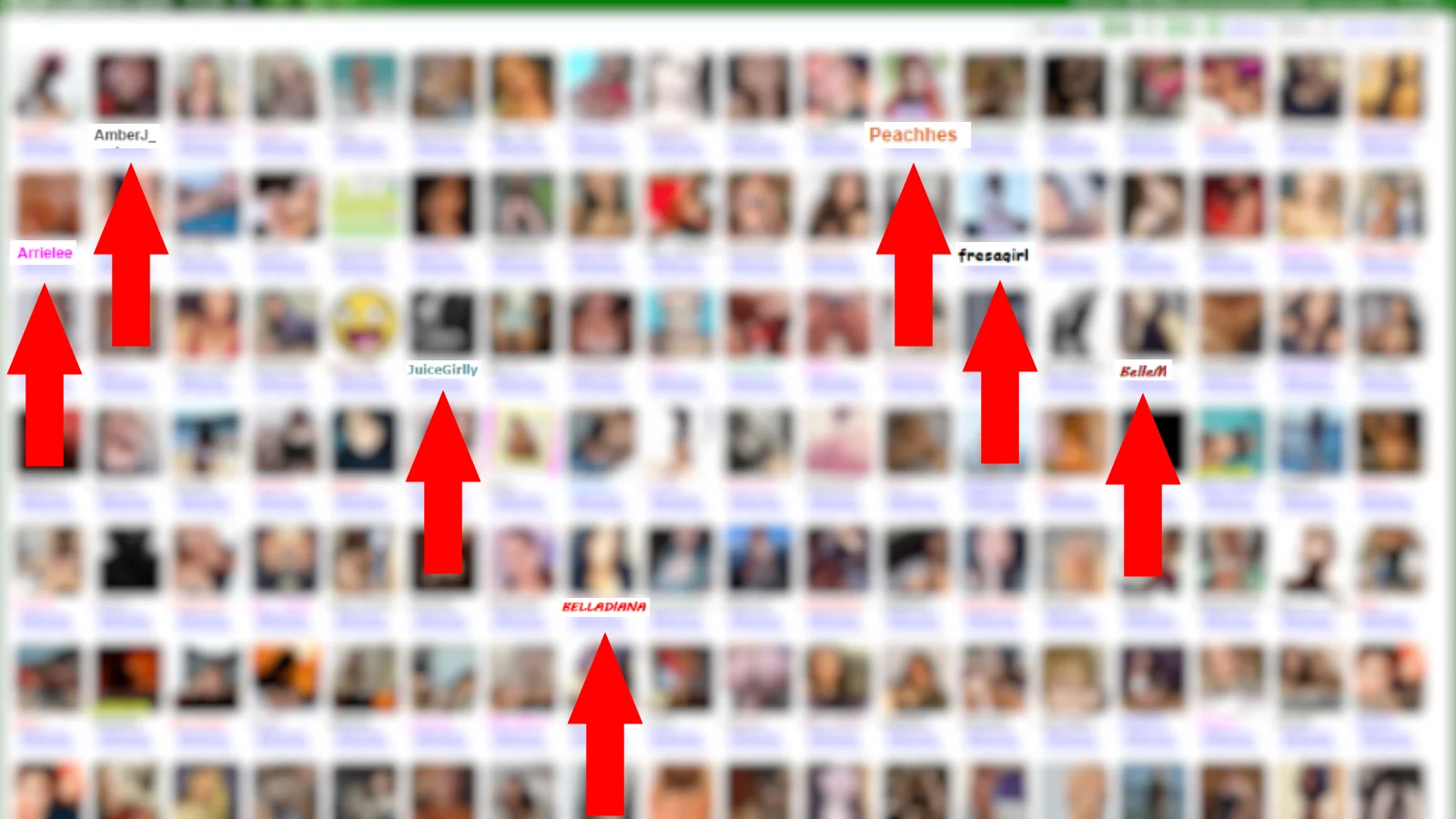 MFC mail - how to use this MyFreeCams option?
MFC mail is internal mail network of MyFreeCams that may be used to send longer messages to other members of the website and broadcasters. MFC mail has several colours that are connected with different notifications:
Row Highlighted Yellow: Unread
Row Highlighted Pink: Offline Tip (Automatically sent by MFC)
Row Highlighted Green: From an Administrator (Official MFC Mail)
Username is Bold: From a Friend.
Username Highlighted Yellow: Sender is currently Online.
Shows Avatar in front of Username: From a Model.
You can also get e-mail notifications connected with messaging if you have unread messages for longer than 24 hours. Sometimes these mails must be searched in SPAM so if you wait for any e-mail from MyFreeCams, always check your SPAM folder too.
MyFreeCams archives and their features you should know
All your messages and private shows are saved for you. You can watch records with your private shows for free as many times as you want. This way you have your private movies with broadcasters you like. You can clear your archives if you want but remember that this action can't be reversed. Think twice before you do it.
It's nice to have shows recorded in archives - you can watch them and masturbate completely for free. It's also the biggest advantage of taking part in private chats and spending 60 tokens per minute on the show.
REGISTER WITH BONUS!
Offer based on regulations of the website!
Tags and topics of models and members of MFC
What are topics and tags in details? Why is it important to care about them when you use MyFreeCams?
TAGS - each broadcaster and viewer can describe their accounts with words called tags. It's important to choose right words to make searching easier (and to avoid mislead others)
TOPICS - rooms of performers have topics - things, activities and services you can access there. You can use them to search the right broadcaster for you.
It's hard to write something about MFC. The site is large and full of options. Searching any model there has as many features as it's hard to know all of them. Even than we encourage you to spend some times not only on watching shows but also checking options of the website.
Something more about Lounge and its options only for premium members of MyFreeCams
The Lounge is a special place only for premium users - guests, basic users and models aren't allowed there. Only administrators may enter this place where:
premium users can't be spied by broadcasters - performers don't see who is there and what they type
everyone in the Lounge can watch a different model at any time. There isn't any synchronized rotations among members.
How to manage the Lounge?
GO TO HER ROOM - to leave the Lounge and go into model's chat room
POPUP - to see model's room in pop-up, without leaving the Lounge
PM - to open pop-up private message to the model
PROFILE - to see broadcaster's profile in new tab
MENU - to see model's details, make friendship with them, etc
PREVIOUS/NEXT - to see previous/next model of the list
LAST - to see again the last performer you checked in the Lounge
SHOW - according to below categories:

all models
most popular room
top 100 popular rooms
new models
friends
models in private sessions
models in group sessions

AUTO - cycle videos (you can determine the time of each of them)
MODEL LIST - the list of all broadcasters you can see in the Lounge
MORE OPTIONS - other advances features.
Mobile option of MyFreeCams and how to use the website with smartphone?
First of all, using mobile version of MFC is quite comfortable so if you prefer watching live streams from your smartphone - MyFreeCams may be good choice for you. From your phone you can do the same as sitting in the front of your PC computer. You can access the website both with iOS and Android and that's a big plus of the mobile version of MFC:
ADVANTAGES:

interface is responsive and easy to use
quality of streaming is high
works both on iOS and Android

DISADVANTAGES:

there are some lags
initial connection with the mobile version takes a while (but later it works rather smoothly).
Mobile version of the site has some minuses but if you like using sites from your smartphones, you should be satisfied. Phone version has all options you can find in the PC mode.
Overall write-up of MyFreeCams to decide if you want to become the member of this website
Before you know pluses and minuses of MFC, you should know main features connected with this site. It's hard to describe the website with only few words, it's to complicated and has too much options to use only short review to tell you everything.
On MyFreeCams you can find:
free chats that haven't determined the price per minute
the option to tip models on any chat you take part in
private chats
TruePrivate shows
group performances
options to spy somebody's private chats
ability to watch multiple streams at the same time
mobile version of the website that works like PC one
interactive toys
Cam2Cam during private chats
model's bios with details and pics
MFC Share - free video and photo hosting site with lots of content
suggestions with models you may like based on your previous choices
many options of searching and customizing the site.
REGISTER WITH BONUS!
Offer based on regulations of the website!
The review of good and bad features of MFC - is it worth to have the account there?
Each streaming website has pluses and minuses. What are good and bad things connected with MFC? Below description of all things you must know if you're interested in using this site and spend tokens there.
What was designed well on MyFreeCams?
MFC has lots of pros - first of them is connected with the fact the this site may be used nearly for free if you want to save some money. There are lots of gratis options but remember that it's advised to tip models so you need some coins in your balance.
What other pluses you can face if you decide to use MyFreeCams?
there are lots of models to choose, the catalog of them is very large
the website has many options of searching and using
tip-based shows can provide lots of pleasure for smaller price
your private shows are recorded and you can watch them again anytime
there are different show types with various prices
you become premium user for forever when you buy tokens
models earn well there
the quality of cams is high.
What features of MFC are bad if you're the user of the site?
OK, now it's the time to know bad things connected with using MFC. What may be described as site's disadvantages?
private chats are quite expensive
sometimes it seems to be hard to use all site's options of searching, etc.
MFC has two faces - it may be used nearly free or may become expensive if you want to enjoy some nice whiles with the broadcaster. But you can see that this site has more good features than disadvantages and it's worth to visit it.
MyFreeCams may be free to use for real but it's better to have some tokens in account balance
MFC is huge website with long history and many dedicated users. If you look for any type of broadcaster, you can find them there. You can also use the site in 2 different modes - almost free one and connected with spending lots of tokens (but then the additional gift is recorded private show you can watch when you want). It leads to conclusion that it's hard to determine if the website is expensive or cheap to use. When you pay more - you get extras, if you want to save tokens - then your access to some things is limited. The premium on MFC means, for example, that you must buy coins just once (even if your account balance is zero, you stay premium for forever and you can enjoy some things that are dedicated only for bonus users, like the Lounge for example).
At the first glance, MyFreeCams seems to be a little out of fashion but if you start using the site you'll understand that it's nice to use. It's worth to have the account there and spend time with broadcasters and other users from the website. What's important, the site has more features than other streaming platforms that are very popular among users. All MFC options were described above, it's hard to mention them again here so you should check this review and then visit the site and set up the account there. Being the member of the community is completely free, there isn't any subscription paid monthly, the only cost there are tokens. Unfortunately, there aren't also any discounts and promotions for users, only reward points that unblock new features of the site. Well, you can pay for coins the price that is determined for users. And, of course, remember that there isn't any generator or adder that can hack or cheat currency for you -it's just the myth and you should stop thinking about it.
Summing up - MyFreeCams is interesting site that has many great options, some of them are good and some are bad. One is true - MFC is the place you should visit to make decision if you like its features. Decision may be only yours. Creating the account is only a while and there is the possibility that you'll fall in love with options you can find there.
REGISTER WITH BONUS!
Offer based on regulations of the website!
Reviews
8.8 Very Good Based on 573 reviews
---
Leave a Review