Is the primal fetish a fetish for real? Is it described as BDSM behaviour? Sexual behaviour called primal fetish is more of a style than a fetish itself. Being primal is different to everyone and there is no set tone of rules of protocols to follow. To be sexually primal means that people allow them to release their animalistic and primal self out when they are sexually aroused or during intercourse.
In the BDSM scene, some refer to themselves neither as submissive, nor dominant but as primal. It's connected with the fact that the dominant part usually wants to fight in various ways. But easy, you'll see all similarities and differences in the article so stay patient for now. Everything step by step to understand the whole topic.
---
---
CHECK ALL REVIEWS!
Everything you should know about the primal fetish
Primal sex means for sure wild and rough actions and elements of being dominant and submissive. Where is the line between sexuality and violence? There may be primal sex used! Are you ready to explore your raw urges, impulses, and emotions?
It's impossible to define just one single activity that defines primal fetish but there are some behaviours that are included in this style such as:
play-fighting and wrestling
growling and snarling
stalking and being stalked
siting
scratching
hair pulling
spanking
rough sex.
What is primal fetish play? Primal play (or primal sex) is the sex that involves the whole body (also nails and teeth). This sex is a tool to control and dominating partner (or being dominated, of course). Primal play doesn't have to be the whole fetish or style - there are a lot of non-primal people who use raw and rough sex from time to time because they just like it or want to try something new and exciting.
Primal sex and BDSM
Similarities

both include being submissive and dominant (switching is also possible)
both use safe signals and hard and soft limits is another similarity

Differences

there may be more roles in primal sex than only dom and sub in BDSM
there are less or no gadgets in primal sex than in BDSM, primal people prefer to use wrestling holds and pins
Primal sex is every any activity driven by instinct and impulses. Some people like identyfying with a specific animal when they are primal but having primal sex doesn't mean that partners have to act animals. Primal folks may adopt behavioural traits that mirror their chosen animal and their relationships may be dictated by animal-like group dynamics such as pack or herd mentality but there isn't necessary to use leashes or collars.
Roles and relationship types that are important in the primal fetish
It's important that the primal fetish is open to people of any gender or sexuality, in any type of relationship. On the other hand, it defines some roles and relationships too:
PREDATOR - it may also be called a Primal Dom or a Hunter. They like chasing and dominate
PREY - called also a Primal Sub or a kitten. They like being chased and eaten by the predator
MATE - a kind of sexual partner to have sex and bond with
PET - less than mate, someone from a friend zone, for sex but without strong bond.
Of course, all above roles are fluent in the primal fetish and some couples can define everything in completely different ways.
But what are basic types of primal play?
PRIMAL vs NON-PRIMAL - if one partner likes for instance hair grabbing, clawing, and wrestling. Very often it's based on instincts and intuition then. It's quite often in couples that don't define themselves as primals
PREDATOR vs PREY - one partner enjoys chasing and assumes the role of the predator while the other is chased. The predator uses their hair, teeth, nails and body strength to chase, subdue and dominate their prey. Foreplay may involve the predator smelling their prey's skin or tousling their hair before they try to escape. Once the prey is cornered, captured and tamed, the predator dominates them and takes their prize
PREDATOR vs PREDATOR - the balance of power constantly shifts between the two participants as they try to wrestle, strike, scratch and bite each other into submission. Predator vs predator primal play usually involves play-fighting or wrestling where the two alphas battle for dominance over each other. This creates a huge amount of sexual energy and can result in mind-blowing climaxes for both partners!
Don't forget that roles can be reversed if sides accept it!
Does the primal fetish involve any toys?
The most important toys for people who like the primal fetish are teeth, nails, hair, and skin.
There aren't other determined gadgets that must be used. Your body has everything that is necessary but you can of course decide if you want to have extra things.
What are primal packs?
Primals sometimes gather in groups called packs. This small community may have a strict hierarchy with each individual understanding their place in the pack. Most of the time, the group will consist of one Alpha. Fight for dominance might happen to naturally elect a new Alpha – much like a wolf pack of a lion pride. It is not about physical strength; the best leader is the most competent person taking care of all the group.
But if a couple doesn't want to be in any pack - they can cultivate the primal fetish only being together. Just a couple can be also a pack - but then there are less roles in the pack. That's normal, 2 people are less than 6, 8 or even more.
The primal fetish doesn't have to be connected with sex only
Not everything is connected with sex. The primal pack may be also a safe place when life gets rough. People in packs have bonds and they may be very helpful in some situations.
So if you think that in packs there are only orgys and nothing more, you're wrong. Primal packs are like animal herds. And because of this, sometimes members define them also as safe places for friends and other types of relationships like conversation, help, etc. But also in animal herds there are also other things, not only copulation from mornings to evenings.
Is the primal fetish worth trying?
Being primal has some advantages you should know. It may help you to make a decision if you want to try it or not:
It boosts intimacy because this type of contact is intense. It helps also to know the real scent of a partner or their reactions. Thanks to this, you can know each other better.
It helps to explore boundaries and an animal side of your mind and body. The power of letting go entirely and submitting to your raw impulses, emotions and urges can reinvigorate your sex life and redefine your entire concept of sexual boundaries.
It may increase physical pleasure a lot and make your sex life spicy! And you may get more confidence because of this too.
Suppose, you want to try it. What do you need if you're a newbie for the primal fetish?
Tips for people who want to try primal sex
There are some tips that may help you to try primal sex. What should you take into your consideration?
try play-fighting and wrestling
plan a sneak attack and let your other half know that you need them right here, right now
use your fangs and your claws and bite your partner's lip or drag your nails across their back
take them into the wild and check sex on fresh air
have standing sex.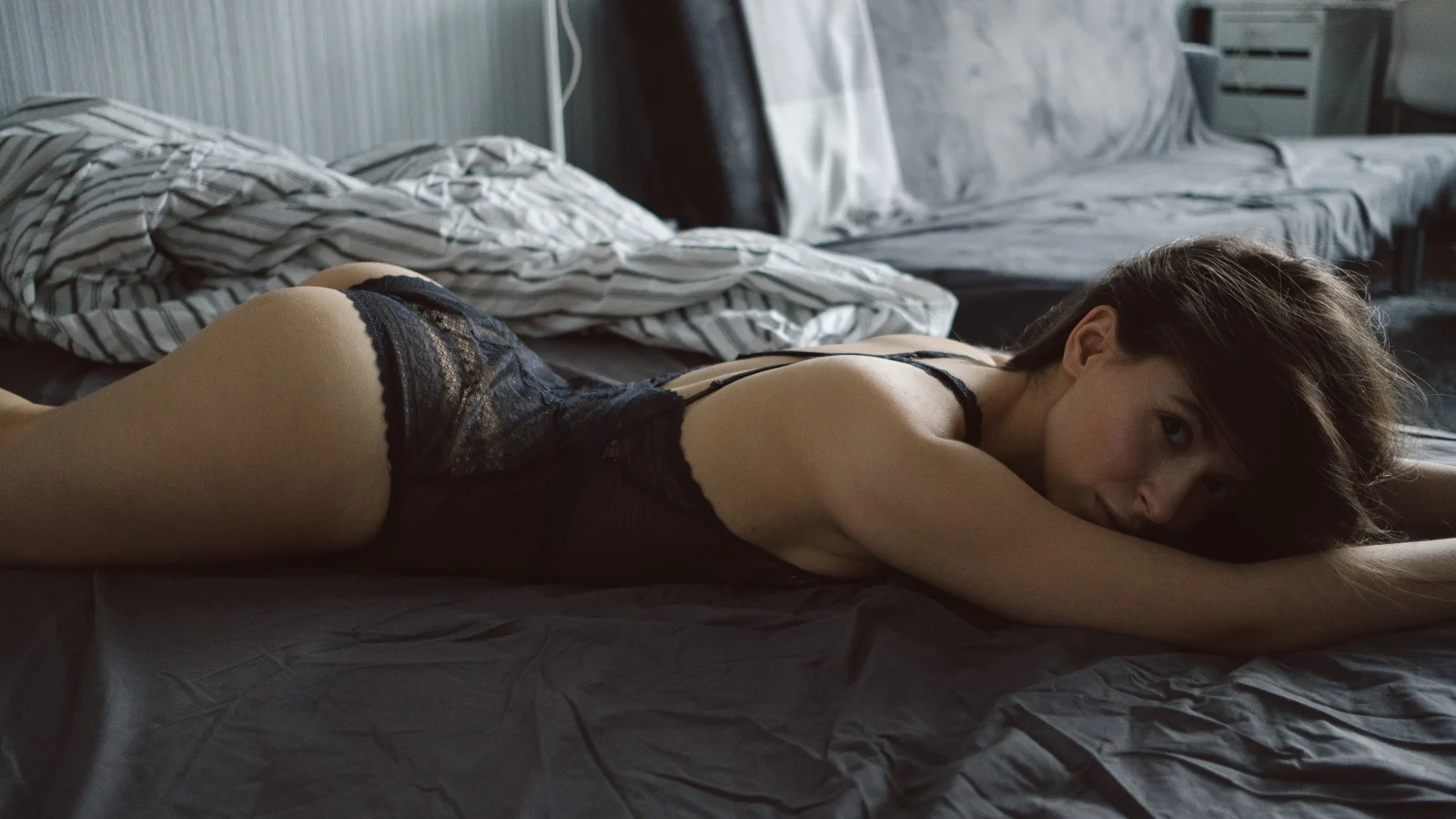 How to restrict the partner in a safe way?
Pain and excitement are a perfect combination and mixture of adrenaline and sexual hormones rushing through your body helps mask any pain you feel, creating an intoxicatingly addictive sensation. Despite this, you should remember about some safety tips to stay safe with the partner:
take off any removable jewellery and glasses
take off clothes with zippers or buttons
remove everything near the place of having sex.
Don't forget to determine the safe word - you can use them anytime during your play!
Something more about biting and scratching
Biting and scratching can range from minimal actions to stimulate arousal all the way to intense blood-drawing bites and scratches designed to inflict pain. It may be very pleasurable but it must be made in the right way to gain it. You can check it for example during your foreplay - it;s the right time to check new techniques of using mouth and palms.
Start with fragile moves and then try harder pressure. You may use any part of the body and scratch, bite and squeeze everything from face to toe fingers. But always stay communicated with your partner to determine your private levels of pain and pleasure.
The best positions to have primal sex
Some positions are better than ones to maximize pleasure of primal sex. Check all the best you can use.
IMPORTANT FACT: despite pictures you can't forget that configurations connected with below positions may be various. Pics are here only to help you understand everything, don't care about genders of partners - you can reverse it the way you want.
Primal sex is good for all configurations of partners, hetero- and homosexual ones and for people who identify themselves with different genders. So use pictures only as help for you and your primal partners. It's easier to understand everything when you can see it.
Oral positions that are the best for having primal sex
Check how to maximize pleasure connected with primal sex using the best positions for this type of sexual activity!
THE HOVERING BUTTERFLY

Prey lies down on their back and the predator straddles their face and uses their legs to pin prey's arms. But the predator has also both their hands free and may use them the way they want - to scratch, pull hair, etc.

THE LYING MANTIS

This position is a variation of 69 and it's perfect for 2 predators because they have the same possibilities then.

THE CROUCHING TIGER

The predator may either immobilize their prey's legs using their hands or perform cunnilingus or fellatio on them, depending on their preferences. In this position both sides give pleasure but only the predator can have full control.
The best sex positions for primal lovers
Oral sex isn't the only option for having primal pleasure. What can primal lovers do to have great sex?
THE ELEPHANT

The prey brings their legs into a kneeling position and the predator wraps their legs around their prey. This position is the best for predators with vagina that may be penetrated with a penis or a strap-on.

THE AMAZON

This position requires being stretched by the predator who must sink down this low. Also the prey needs good hip flexibility and strength to hold their knees in this position for a longer time.

THE TURTLE

The prey kneels down with their butt resting on their heels and their knees touching their chest and the predator then kneels behind their prey's butt and rocks forward onto their hands, placed either side of the prey's thighs. In this position it's required to have a penis or a strap-on by the predator.
You have already known all basic details connected with the primal fetish. And now it's only your decision if you want to check it or not. But remember that trying new things is great and can provide you a lot of pleasure you haven't experienced so far!
CHECK ALL REVIEWS!