What is BBW? The main meaning is "big beautiful woman" that describes plus size girls. It was launched in 1979 along with the BBW Magazine made for bigger women.
It got popularity and started to be used by women who even hadn't ever heard about the magazine. And for sure it shows the big power of this term and its role in society and mainstream.
Other meanings of BBW
BBW may describe also other things
(but these meanings aren't that popular as the main meaning)
big black woman
big-boned woman
beautiful body woman
beautiful black woman
At present BBW describes various things made especially for plus size women and the term is used by people involved with a body positive movement.
This term has also:
OTHER NAMES:

full-figured
voluptuous
zaftig
Rubenesque

OTHER VARIANTS:

BBBW - big beautiful black woman
SSBBW - supersized big beautiful woman
BHM - big handsome man or big hulking men for guys
BBM - big beautiful man for guys.
---
---
CHECK ALL REVIEWS!
Fat fetishism and its aspects
Fat fetish means sexual attraction to overweight or obese people. There are a lot of types of this fetish, including feeding connected with sexual gratification. Why do we connect fat fetish with BBW? Because sometimes that may refer to each other but of course it isn't a rule.
Liking BBW women, it isn't necessary to feed them or make them obese from their bigger sizes. But it's advised to know this term by reading something more about BBW porn. Why? Because not all BBW porn videos include sex activities.
BBW fetish terms to know for everybody
You should know all the most popular types of BBW fetish and terms that refer to this phenomenon. What are they?
adipophilia - philia means love or affection and it refers to love fat and bigger sizes
chubby chaser is somebody who loves to fuck fat boys and girls. For some the term is considered as negative but not everyone thinks this way. For some people it may be used also with fondness
feederism - people interested in the act of feeding, of watching a person eat, and observing them gain weight over time and getting excited because of this
hogging - finding overweight women and hooking up with them to prove that fat women are desperate sluts
leblouh/gavage - force-feeding
squashing - being smothered by a big body
belly play/gut flopping - playing with a big belly in various ways.
Above words describe basic activities and terms connected with BBW.
It's also one thing you should understand here - it's hard to say where BBW ends and SSBBW starts. Most often it depends on people who describe themselves with specific definitions.
What is BBW porn in details?
As BBW ones are described various women. They may be chicks like April Flores and Eliza Allure or even just girls who have size bigger than "0". It shows that in BBW porn you can choose among plenty types of chicks and many levels of being bigger.
BBW porn is divided into 2 main categories:
regular porn
fetish porn often even without sex.
BBW porn doesn't have to mean any sex
Some BBW fetishes don't involve any sexual activities and they are porn without typical porn. So why are they described as pornography? Because they cause sexual arousal. For example films of eating. Food may be fetish so many people get excited viewing BBW girls who eat.
And if they eat sweets, cakes or unhealthy but tasty food, it may be even described as double food porn.
Sometimes food eating films aren't even made to be erotic but everyone knows that they are viewed to cum by all feeding fans. People get aroused with different things and it shows it in a great way.
Is BBW porn popular?
BBW porn is becoming more and more popular. Recent years have shown that more people want to view bigger chicks in actions. They are also considered as sexy girls.
Based on details of porn websites, it's easy to notice that there are more BBW videos now and they have a regular audience. Body positivity is widespread now, even in the adult business. And based on this gaining popularity, more and more videos are made.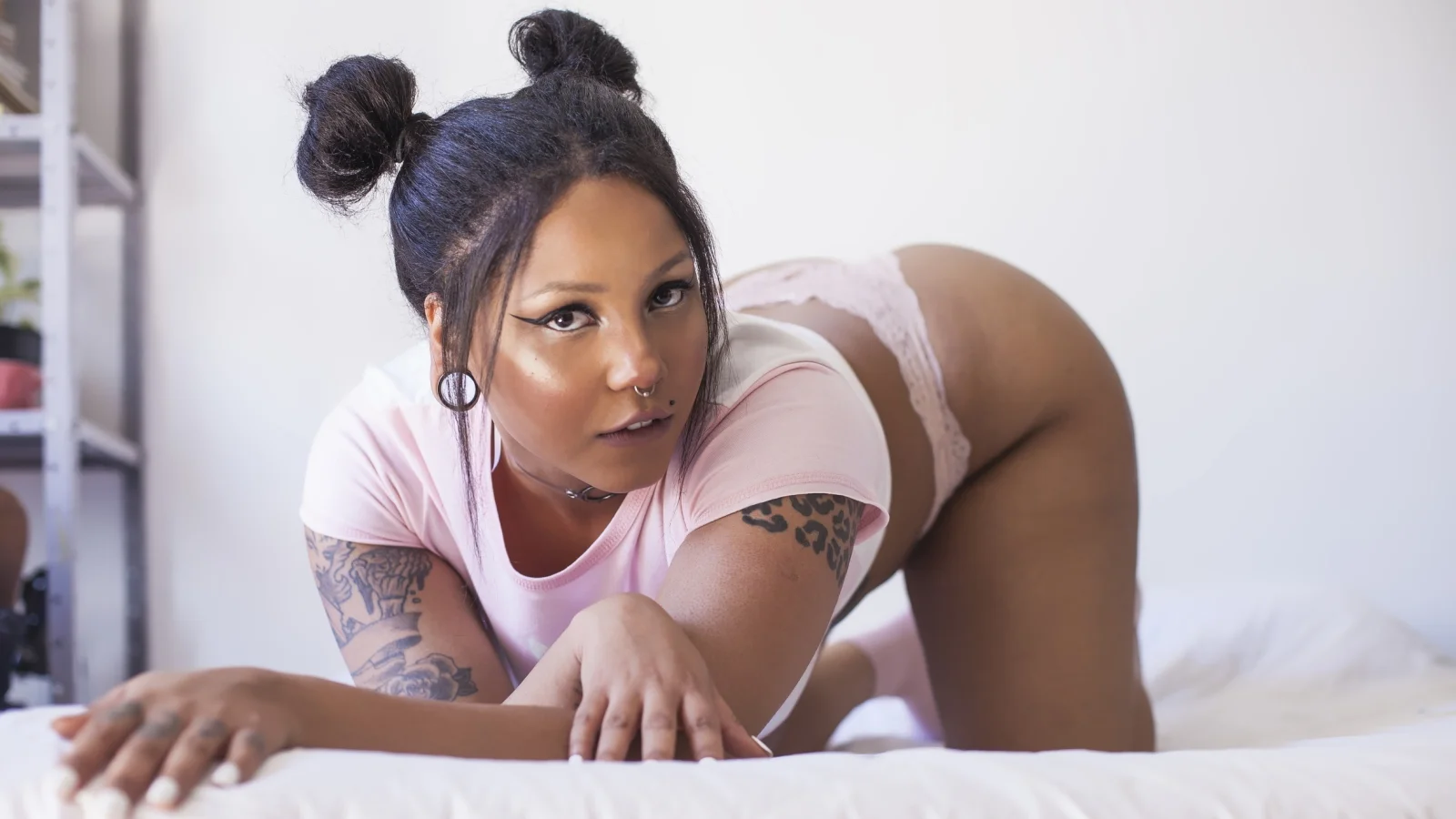 Social stigma connected with liking BBW porn
BBW is a type of fetish. Fetishes are different, not all of them are interesting for wide groups of viewers. Some of them are also connected with social stigma. BBW porn is one of these porn genres.
Being fat is connected with stigma and watching BBW porn is sometimes even more stigmatized. For sure BBW porn isn't for everybody but it shouldn't mean that only skinny women are attractive.
People from FAPdistrict's Team think that everybody has the right to like what they want but of course we think that being too obese may be dangerous for life so it's good to be body positive but also know the limit connected with getting ill with weight. So not everyone must be slim but every of us should remember that we must stay healthy to live a better life.
So don't stigmatize bigger people. Everybody can have the weight they like. For some of us it's more than being just zero size.
CHECK ALL REVIEWS!