Stacy Bloom - Russian flower with exotic roots who loves making everything perfectly. Available to meet online during live chats and to view on the screen. Started as erotic model and dancer, now she's becoming more and more popular. She dreams about a big career and works for famous studios. For sure, she's talented enough to change the industry! On FAPdistrict she answers questions you may be interested in. Do you know Stacy Bloom better? Read her answers and follow her socials!
---
---
CHECK ALL REVIEWS!
Personal info of Stacy Bloom
Stacy Bloom Bio
NAME
Stacy Bloom
DATE OF BIRTH
7 June 1992
HOMETOWN
Russia, Moscow
YEARS OF ACTIVITY
2010-2020 Modeling Business
2019-2020 Porn Industry
RELATIONSHIP STATUS
Single
EYE COLOR
Brown
HAIR COLOR
Black
PIERCING AND TATTOOS
back, neck, hands
FAKE TITS
No
PUBIC HAIR
Hairy
MEASUREMENTS
89 - 61 - 91 (cm)
35 - 24 - 36 (inch)
HEIGHT
160 cm
5ft 3in
WEIGHT
47 kg
103 lbs
What does she prefer?
Before you know the answers to the questions, it's time to get to know Stacy better and see what she prefers. Do you like the same things? It's a series of quick replies!
SPIT OR SWALLOW?
Swallow
CHOCOLATE OR STEAK?
Steak medium well
WITH OR WITHOUT A BRA?
With bra, to keep my breast
STOCKINGS OR TIGHTS?
Nylon stockings
ORAL OR ANAL?
Anal
CROISSANT OR PASTA?
Croissant
CREAMPIE OR END IN MOUTH?
Mouth, for feeling taste of cum and my pussy
LIVE SHOW OR MAKING A VIDEO?
Both. Live show giving me possible to talk with fans, to know, what they wanna, to show what I like live.
GROUP SEX OR SOLO JOY?
Solo. I love to join myself, to take my time, not a lot of guys ready for long action
PRIVATE CHAT OR PUBLIC SHOW?
Public show
NETFLIX AND CHILL OR JOGGING?
Jogging
WINE OR VODKA?
Wine. But I don't like alco so much.
BEING SUBMISSIVE OR DOMINATING?
Dominating
SLEEPING OR PARTYING?
Sleeping. To sleep very important for health, keeping energy, and beauty.
HARRY POTTER OR GAME OF THRONES?
Harry potter. It's my favorite book since my childhood, I learned english with this book. Since 10 years old I really waited bird with letter from hogwarts. But I have mails from porn companies now. Maybe it's better than letter from hogwarts.
ONLYFANS OR MODELHUB?
ModelHub
DOGGY OR COWGIRL?
Cowgirl
BIKE OR CAR?
Car
PIZZA OR BURGER?
Pizza
SPORT SHOES OR HIGH HEELS?
High heels
DILDO OR FINGERS?
Dildo
LACES OR LATEX?
Latex
The Interview with Stacy Bloom
FAPdistrict: You like compliments so it's the best time - at the beginning of our interview - to tell you that you are beautiful as a blooming flower, really. Your body is perfect and it's hard to choose what is better - your breast or hips. Each part of you may be an example of an ideal. But you probably must hear things like these every day. Aren't you tired of that?
STACY BLOOM: Hah, of course no. Every woman wanna know that she is beautiful. Every woman happy to hear that. If u have girlfriend, mom, sister, wife, grandmother... Don't forget talk to them, how beautiful they are! They will be happy.
---
FAP: Why is your nick Stacy Bloom?
STACY: 8 years I had stage name for solo, Pammie Lee. Usually, when model going from solomodeling to hardcore, better to change stage name, because this is different genre. Stacy - it's my stage name since the time, when I worked in striptease club. This was the best club in Russia. I was artest dancer. Stacy - there are USA doll, friend of barbie - "STACY". That's why I chose this for stage. With hardcore I decided to keep this name. Last name "BLOOM" created my first director - Giorgio Grandi. He said, that I am young, beautiful, amazing, and like a flower, which will be blooming all the time. So, here is Stacy Bloom.
---
FAP: Are you a perfectionist as you tell?
STACY: Yes, everything what I done, everything what I am doing, is not enough for me. I wanna more. I know, that I am working and worked a lot, but I wanna more. We should not to stop of things, which we have.
---
FAP: You are famous for your sexy dark curly hair. Do you like it?
STACY: Yes of course. They are good, they are growing so fast. I had different length of hairs, and I love it. I don't like when make up artists touching my hairs, and wanna change them, some make up artists thinking that 'normal' hairs is a straight hairs... For one photoshooting, make up artist straight my hairs, but it was retro style shooting and there was special look for that... It took 2 hours, really, because I have really curly hairs, and I have a lot of hairs... But after, photographer looked, and said "No, we should not do that, we are already tired, cause it took 2 hours, and finally it's looking not like with curly hairs".
All we are individual, me and my hairs too. It's like to ask me make my tits small, haha.
Sometimes I had a conflict with make up workers about this... Those situation I called to my agent, or producer, or called the director. Everybody always talking "No, keep curly, we invited this model especially because she have this great hairs". I hope in the future directors will nor change this mind.
---
FAP: Is it true that you were also a ballet dancer? Does it explain your grace and the way you move?
STACY: No. I was artist dancer. Not classic ballet, I dances stiptease and in erotic show ballet.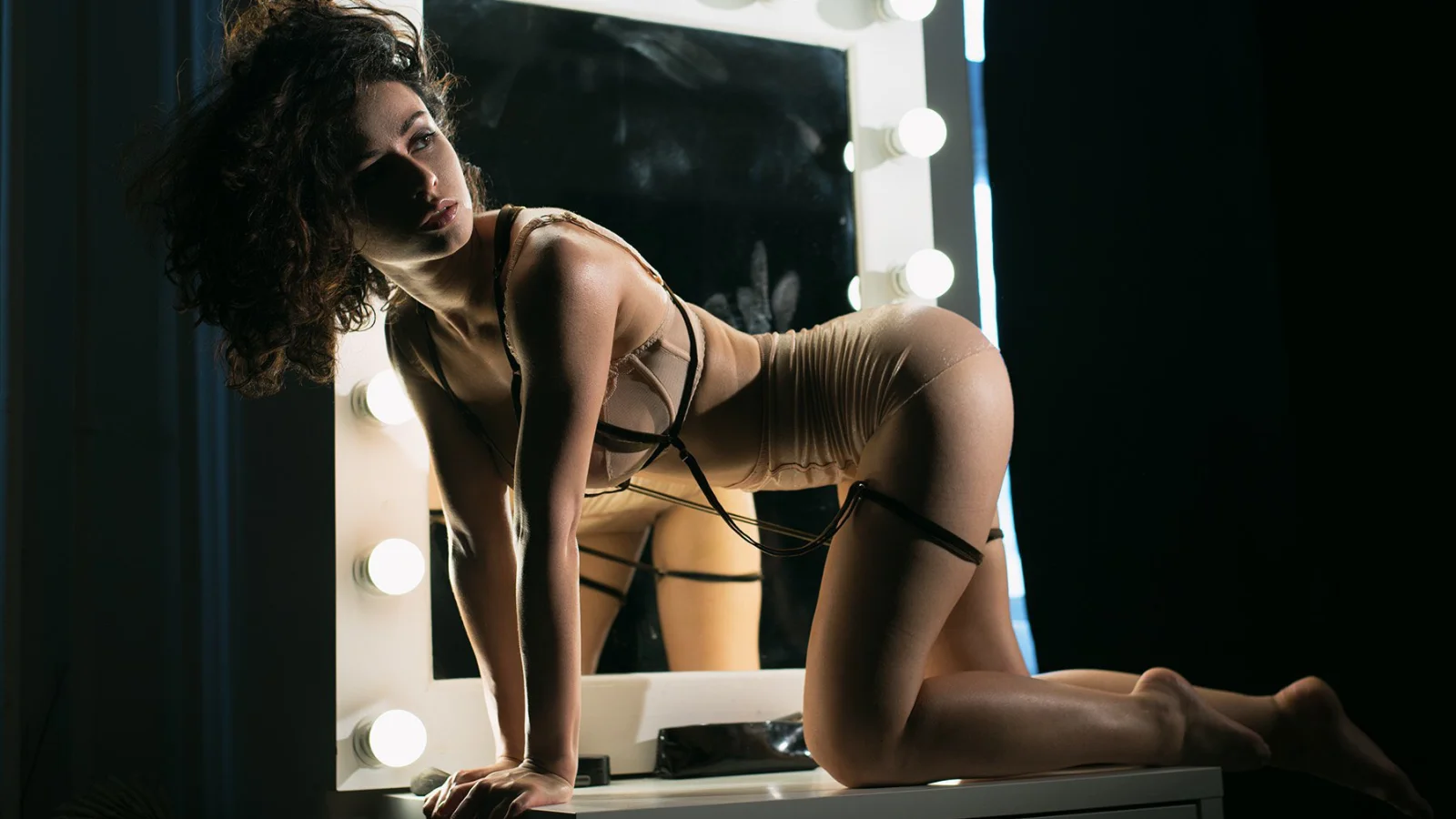 ---
FAP: Is it possible to describe you in only 3 words?
STACY: No it's impossible, but I will try.
Honest. Purposeful. Woman.
---
FAP: Do you like having photo sessions? You share a lot of beautiful pics on your profiles. And they seem to be made very professional.
STACY: Yes of course. I am in modeling business 11 years. This is part of me and I happy to work with the photoshootings too, with photographers, who I know a lot of years. We are still doing content together, we are both creators, and happy to know them and to work with talents.
---
FAP: How is it "I'm inviting you to follow my socials" in Russian?
STACY: Я ПРИГЛАШАЮ ВАС ПОДПИСАТЬСЯ НА СВОИ СОЦСЕТИ.
---
FAP: On the set of a movie, seeing the entire staff, director, lighting technician and many, many other people - can you really relax and enjoy what you do?
STACY: Of course, this is my job, as of all actors and models, not possible to stay in modeling business, and don't like it.
Every video, every photoshooting I always joined.
---
FAP: Do you have any influence on the script if you act in movies made by studios?
STACY: Usually no, but I am working with professionals, listening what director is wanna, and express that, this is my job.
---
FAP: Which partner from the plan gave you the biggest pleasure?
STACY: I know how to take a pleasure, partner can only help me.
---
FAP: Do you have any special hobby you cultivate in your free time?
STACY: Yes, I love yoga, and dance, and to write story tales. Some of them are in my content.
---
FAP: What is your biggest weakness? The thing you can do all the time?
STACY: Enjoy massage.
---
FAP: Do you have any special daily routine such as gym or home SPA?
STACY: It's not routine for me, this is part of my life. To keep healthy body, healthy minds - what can be better... Since my childhood my parents learned me, how to keep my body in best shape. My dad ex-sportsman, and he always learned me, that to do gym, sauna should be a peart of life, as a sleeping, eating good food. It's not routine for me, I love it and this is part of my life since my childhood.
---
FAP: What has been your first experience with adult entertainment ever? Porn video, magazine or maybe something else?
STACY: It was in 2012, for Met Art company, solo open-legs solo photoshooting. After that I was solo model as Pammie Lee. It was and still magazine. After I worked with Playboy Russia, Nudeero, Femjoy, Virtualgirls was my first solo video set. My first hardcore entertainment is was Legal Porno in 2019.
---
FAP: When and why did you start working in the industry?
STACY: I was 18 y.o. There was offer from one agent, and photographer, to do a photo shooting. His works was great and I agreed. After I registered in any Russian media, as a new model. After some time there are came offer from other agent, to work with MetArt Company. I only started my business as a photomodel. I was as a model in clips, in any cinema, for lingerie companies. But I watched met art website, and loved it. I understood that I wanna to be on the cover of this magazine. They offered good money, and I started to work. I think that I worked a lot of years as a solo model. Of course porn is a different money. It was difficult period those time, when agent from lp company written to me. Stiptease club , where I worked, should too close. It was Christmas time, it was crisis in Russia, there was not a lot of work for photo models. I was always pervert and loved lp scenes. It was the same like with met art - I known this company and masturbated them movies, I dreamed sometimes, that I could be in them scenes, and here I am.
I did not trust the first time that this is really them, I thought that somebody joking. After I checked all emails, addresses, Twitter, I understood that this is really them. They offered shooting in Prague, for good money. It was a choice for me, "To stay good girl", don't do porn, but always to look rich guy, and to work in stiptease club, not for those big money as in porn, or to do what I really wanna, to meet people which I wanted, to work with professionals, and business where I can to develop worldwide, in Eu, not only in Russia. Of course I done my choice. Also, there was funny situation. I asked advice of my manager from striptease club. And thats what she said : "U know, my honey, if I had no kid, if I was not pregnant now, if I still had this great tits, as u have, this great body, passionate, artistic, I would like to shoot porn, because I love sex, all woman love sex, but it's too late for me. For u - no. But I would like don't see u anymore in striptease business. U can do more, u are great photo model, u know how to work with camera. U should work with great companie and to be nominated." She was so correct and I will never forget her, she supported me.
---
FAP: Do you like your job?
STACY: Yes, of course.
---
FAP: Do you have any special ideas to surprise your fans or the industry?
STACY: Yes. But it's a surprise.
---
FAP: Is it your only job?
STACY: Yes, if it was not "only my job", I could work not so professional. Sometimes I seen actors/actresses, who came to this business for fame, for beautiful life as they are thinking. They are usually not staying a lot of time in this business also it's a possible to express myself, to learn and to develop.
---
FAP: Do you like filling the dirty desires of other people?
STACY: Yes of course. I cannot stop repeat, all we are individuals, all our desires too. We should only to take it, and love yourself, who u are really. Not "good girl".
---
FAP: What type of live performances do you like the most?
STACY: I love erotic show of my friend desiner, I will never forget the time when I was in her show perfomances, included club where I worked.
---
FAP: What was the biggest tip you received? Is that person still your viewer?
STACY: Ohh, it was 100 000 tokens from Stripchat, plus was tips for double payment, cause I earned in first month, more than 4000 $.
---
FAP: What has been your favourite moment in the industry so far? Choose something you want - funny or exciting, etc...
STACY: Haha, it's a time of lunch.
I love to take a meal with the shooting team.
---
FAP: Is your life different since you've been in the industry?
STACY: Yes, of course. I know what I really wanna, and free to choose myself what is better for me.
---
FAP: How does working in the sex industry affect your own sex life?
STACY: Yes, it's affected. I am not ready to take less than I have on pornshootings. I am not ready to find sex partner anymore, I am not ready to "find" somebody for sex, and not be satisfied, because all people are waiting something from somebody. Pornworkers don't waiting something from u, they are joining, and don't talking after, that "they are tired", "sorry I cum so fast", I am not ready to agree for less, than really nice guy with nice dick, wheel-smelling, with nice body, and who respects me too. Why I should agree for less pleasure, if I can to have more pleasure with myself, haha I keeping much more time, hahaa
---
FAP: Do you have an industry hero or favourite performer?
STACY: Yes, of course. Abella Danger.
---
FAP: Do you want to be that famous like the biggest names of the industry?
STACY: The biggest names in industry is a people who worked a lot, and recognized. Of course I wanna, and am working for that.
---
FAP: What do you understand the word "exhibitionist" to mean?
STACY: U know, my first education is psychologist, and I know exactly, what is mean "exbitionist". This is violence or social rules, this is violence of other space, and totally not respecting. If u mean "nudists lovers", it different. My parents was nudists, it was always inside our family, we are always respected each space of each other, and, for example, when I became teenage, I asked them to use the clothes at home. They done of course. For nudist lovers there are special beaches, events, fests, exhibitions. We are living in world, where are we doing ourself everything for comfort, respecting, and keeping ideas and space of each other.
---
FAP: Do you consider yourself to be exhibitionist?
STACY: No. I written why. Exbitionist is a people, who showing nake body to everybody on the street, wanna this other people, or not. They are doing this with kids too. It can shock people. If u mean , am I am nudist, it's no. I can stay naked on special party, or show, or during my job. But in my pvt life - only if it's so hot.
---
FAP: What part of your body do you like the most?
STACY: Boobs.
---
FAP: What is your favourite sex toy?
STACY: My huge dildo from Erasexa and The Wonder Toys.
---
FAP: Do you have any special fetish?
STACY: Yes, it's a fisting and facesitting.
---
FAP: Are there things you do at home that you won't do at work or vice versa?
STACY: Yes, I have.
---
FAP: Do you have any secret part of your life your fans don't know?
STACY: Of course, I have.
---
FAP: Do you have anything you just want to do in the industry? Any dream cooperation or something?
STACY: Yes, of course, I would like to work in USA, with VIXEN or TUSHY, or BLACKED. I would like to work with Brazzers. I would like to work with Erika Lust, SINematica, DEEPER. Also would like to shoot for Harmony Films, and with Brittany Bardot, haha.
---
FAP: What are the biggest misconceptions you think other people have of your work?
STACY: That we are aviable for sex with fans and escort. That we are ready to do everything for money. The first, we are artists. We have a choice. Unfortunately, there are coming some people in our industry, who making "name" in movies, as a "promo", and after doing escort, and present themselves as a "pornstar". Of course, this is them own choice and them own rights, but so pity that people thinking, that all we are available for that. We are actors and models, the first. And we ask to respect us and our space.
---
FAP: How often are you available online? Do you have any scheduled performances every week the same time?
STACY: Online I'm available 4 times a week now, Friday, Saturday, Sunday, Monday. Since 8 p.m. ECT till midnight.
---
FAP: Is it possible to go private with you? What can you offer your viewer during your private performance?
STACY: Do u mean private as a "pvt show on webcam"? Yes, of course, I love to stretch and fist my cunt with a huge toys, to squirt a lot, and to play with my prolapse and uretra. Be ready, I really love it, haha.
---
FAP: How can you encourage people to enjoy their time with you?
STACY: To give free trial link on my page. => Stacy Bloom Official Website
---
FAP: What have we forgotten to ask you?
STACY: U done
---
FAPdistrict: Thank you for the interview. We hope you had as much fun as we answering our questions.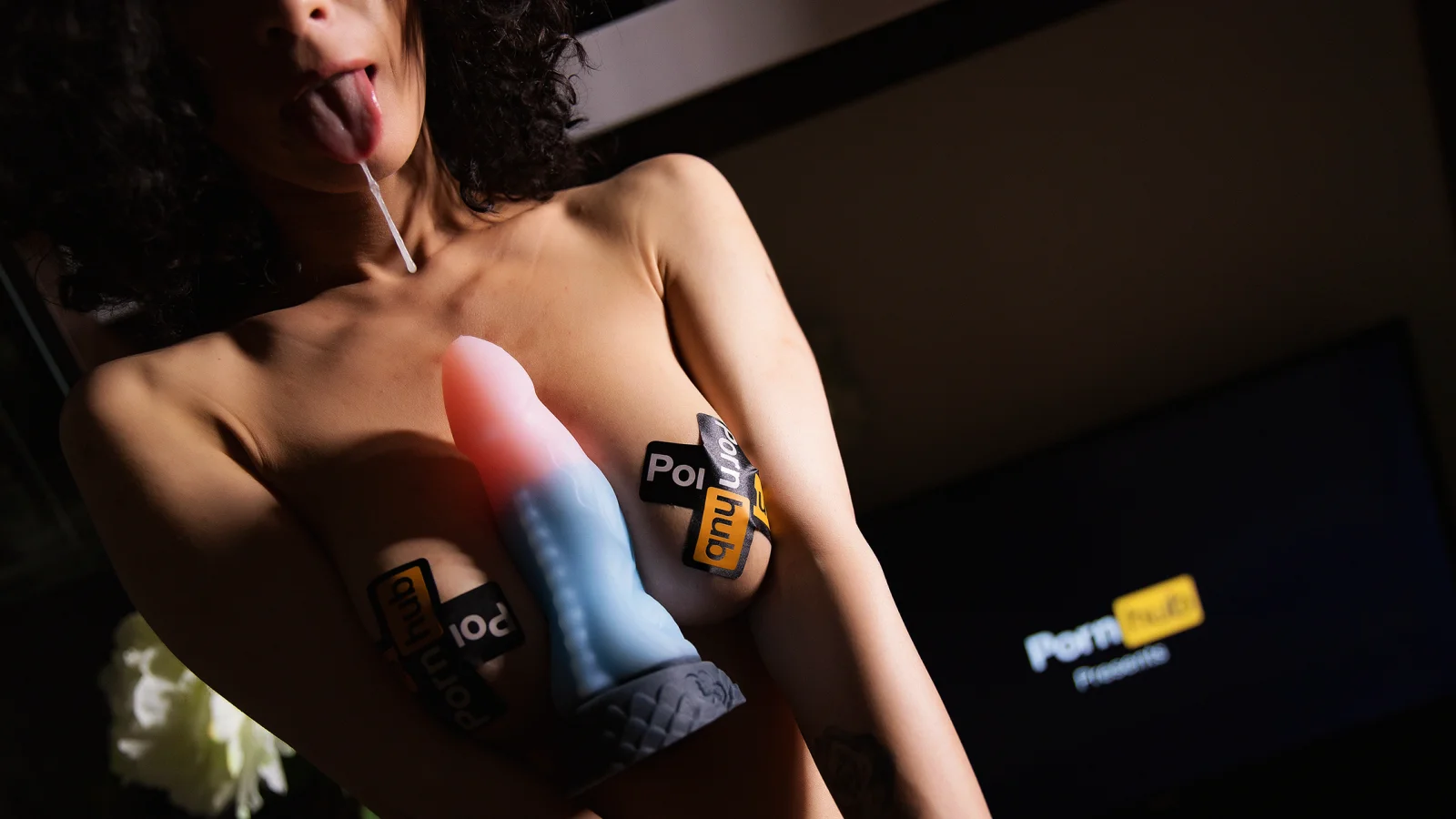 Social Channels of Stacy Bloom
As you can see, not only is Stacy sexy and beautiful, but also intelligent and fascinating! The perfect combination for a woman. If you want to get to know her even better, you can meet her on social channels. Join her communities and stay connected with her! This way, you won't miss out on her live shows and new photos or clips that she shares. Don't wait any longer, check out her media and sign up for the sites you like!
CHECK ALL REVIEWS!