To describe what exactly Futa Porn is, we must start with the term "futanari". What does it mean? Futanari is the Japanese word for hermaphroditism, which is also used in a broader sense for androgyny. Commonly it's abbreviated to "futa" and this word is used to describe pornographic content with characters that have both male and female genitals.
What does it mean to watch futa porn? There are some questions to answer and we'll do it soon.
Meanings of futanari (futa)

futanari means "hermaphrodite"
it comes from (futa-tsu) "two" + / (nari) "form", from (naru) "become"

a genre of Japanese anime or manga featuring hermaphrodite characters, generally with female bodies plus a male phallus
a work featuring a character (or characters) who is a futanari
Terms connected with futanari:
HERMAPHRODITE - an organism that has complete or partial genitals of both male and female. It may be called also intersex.
ANDROGYNY - a combination of masculine and feminine characteristics into an ambiguous form. Androgyny may be expressed with regard to biological sex, gender identity, gender expression, or sexual identity.
So let's introduce you to a genre of porn that is connected with futa characters. There are some details you should know and some important things that help to define that futa porn is futa porn not other genres.
---
---
CHECK ALL REVIEWS!
An introduction to futa porn
Folklore of Japan contains fantasies that are connected with sexual characteristics. It's connected also with their folk religion and beliefs that not all deities had specific genders.
And based on this, it was very simple to make it useful in culture such as manga and anime and its erotic subgenres.
Futuri characters in manga and anime
Originally hermaphrodite persons were changed into futa characters for manga and anime needs in the 1990s. And for about 20 years futa has been popular in mainstream in Japan and in other parts of the World.
Of course futa doesn't just mean trans people so in Japan language to describe trans women they use the word adopted from English and it's newhalf (ニューハーフ, nyūhāfu).
What is futanari porn?
Futanari porn or futa porn is a genre of anime pornography that includes humanoid females with both penis and vagina. Penis may be drawn with or without testicles.
In futa porn there are available various types of videos because this genre is considered as wide and free from limits.
Futa porn doesn't include trans
Transgenderism isn't futanari. Futa characters have all parts of the female body (also vagina) but they also have penises.
Of course there are people who use the futa term to describe trans women but you shouldn't do it and you should know that they aren't the same. What's more, trans and hermaphrodite persons are available to meet in real life, futa is at present only used to name anime and manga characters because this term lost its primal meaning.
Types of futanari characters
Futa characters don't have to have the same outside appearance and elements. Among them you can find figures that have:
female body, penis and scrotum
female body, penis without scrotum over vagina
female body, penis with scrotum over vagina.
Each above type is the same futanari. But people can be a little different so futa characters are also divided into above 3 genres. Everything depends on a fact how creators like to define them.
Is futa porn popular?
First of all, what is futa porn like? Futanari videos have everything that should be included in good porn. For sure it's very attractive for viewers because animations don't have any limits - of human body real limits. It causes that futa porn is popular among people with all sexual preferences - from straight to homosexual ones.
Maybe it's hard to believe for some people but futanari porn isn't loved only in Asia. This genre is the most popular anime type pornography in the USA! It may be connected by the fact that futa represents a trans-coded sexual fantasy that detours from straight, cisgender men's anxiety around sexual attraction to trans bodies. Futanari girls have vaginas and for many men it means that they are real women. So they watch them and stop being afraid of their sexuality. They can fill some of their fantasies but still feel straight sexual.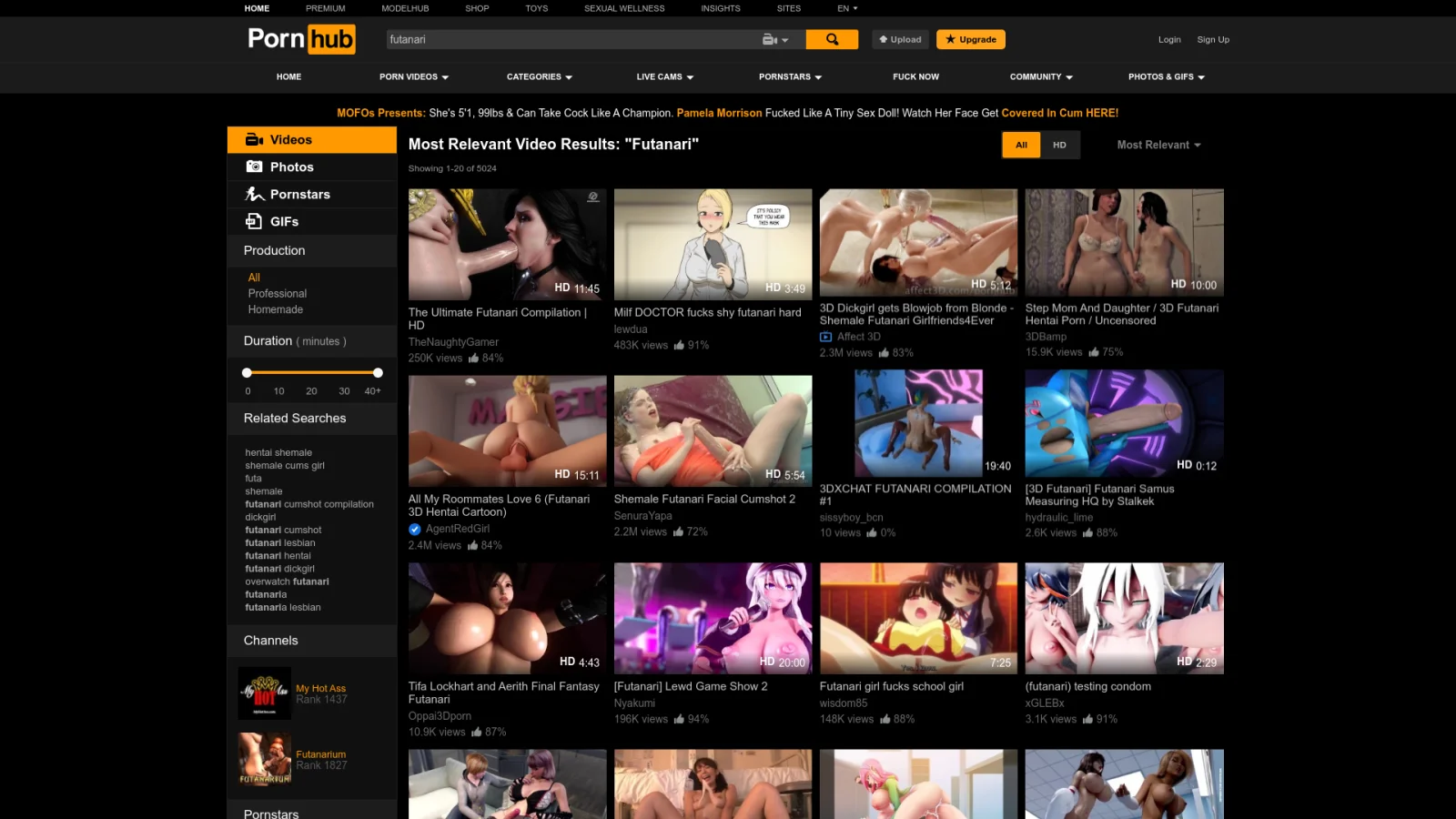 May be futanari porn for you?
Futa porn seems to be good for people who like trans content and anime aesthetics. People who like these things very often check futanari and they often get into this genre. When you search futa porn, there are a lot of videos to choose from. And their variety is a very positive aspect of this genre.
Attractivity of futa is for sure connected also with the fact that it's kinky. And many viewers like watching it because of this. Futanari characters can have for instance double orgasms and it means gushing from both their male and female parts at the same time.
Futa genre is very often also full of elements of other types of porn starting with blowjob and ending with BDSM, for instance. And extremely few of us can have in real life sex with hermaphrodite who is a dominatrix additionally.
For some people futanari is still under taboo but there are more and more porn fans who are watching it. It may be caused by any factors but only you can decide if you like it.
CHECK ALL REVIEWS!